Tomorrow we go see the inside of a house and this doesn't sound like a big deal except that we've been to so, so many already and I already love the outside of this one and the town and the bakery and the restaurant and it's close proximity to a larger city and it's middle of nowhere-ness, and it's neighboring cows and it's YARD! The latter must be capitalized because it's so remarkable. It's like a wonderland. The closest thing I've ever seen to it is one of my favorite people on earth's mother's home back in Washington. She too lived in a secret garden! If it's awful inside, well, I'll probably cry and be forced to drink a beer at that yummy restaurant there, but anything short of awful and I'm begging Jim for the house! Alright, here are some outside pictures to show you what I love about it. Pray the inside isn't atrocious, pray, pray, pray. We just can't house hunt anymore. We're all going nuts.
Oh, what a photo! So my cropping could be better, but what a shot! I could read in that window. It wants me to read in it with a really good cup o' joe. In the
Madeline
books, Madeline lives in: an old house in Paris, covered with vines. As soon as Annelies saw another such house she exclaimed, "Mama! I think Madeline moved to Germany!" Her little face when I told her we get to look at this one tomorrow- it was priceless. That's the shot that was online that got me interested.
The house is on the corner and this is what you see from the street. And a bunch of those are blackberry bushes-yum. It needs a trim, but I love the privacy!
This is peering in a break in the hedge to see some of the garden. Apples, peaches, cherries, all growing here! And the thing that looks a bit like a sand pit (lower right) I'm thinking has the makings of a great fire pit!
The underbelly of a beautiful tree!
Here's another shot from the road. Sadly, it doesn't come with the beemer. sigh.
This is the front door. Can you stand it?? Did I mention the older couple riding bicycles down the road? And he with wild flowers tucked in the back?? Please Lord, please let it not be funky inside! I am dying to have that be my front door!
Here's are some more photos taken from the website: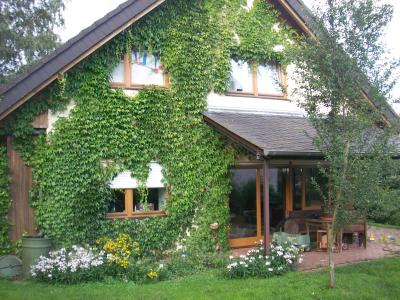 I couldn't see this side from where I was, lovely!!

Here's another, taken a little to the right from the last shot: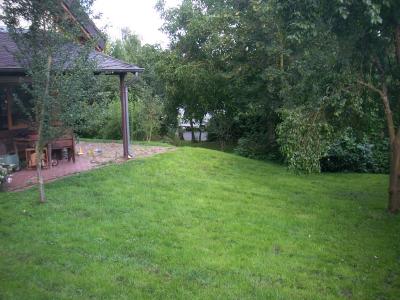 Can't you just see Jim and I on the porch while the kids run laps?





Cross your fingers for us everyone, I'm ready to call somewhere home, and this sure could be it! We've seen about 5?6? houses since I last posted pictures and I'm just burnt out. I've prayed and prayed for the right one to fall in our laps, but I think maybe I'm looking at the wrong lap? But this could do it! The guy we spoke with said it's "rustic" inside. I'm praying rustic doesn't mean 70s. Nothing against the decade, but we've seen a lot of homes with a lot of green palm trees tiles. not good.